What's the Difference Between Scooters and Power Wheelchairs?
Scooters operate using a tiller and handlebars. Power wheelchairs operate with a joystick. Scooters are larger and often have more "trunk" space. Power wheelchairs can be smaller and easier to stow. Scooter seats are usually fixed, but some may swivel. Power wheelchairs can swivel and adjust up and down. Scooters often offer more legroom. Power wheelchairs have a flip-up platform for the feet. Scooters' turn radius makes them more suitable for outdoors. Power wheelchairs are much more maneuverable for indoor living.
If you or a loved one is struggling with mobility, a power scooter or can change your life!
Here's a Top 10 List of Ways a Power Scooter Can Change Your Life:
Daily activities around your home are manageable again.
A power scooter helps with fall prevention. The probability of falling decreases when you're not walking around unstably.
No more feeling trapped. Going shopping with friends and family isn't exhausting anymore!
Vacations! Want to get away? Now you can!
A power scooter investment saves you money versus paying for in-home nursing or a night in the hospital.
No guilt about holding everyone up because you're out of breath.
No longer needing to depend on others for help moving about all the time.
Entertaining abilities! You can have family and friends over again.
Move freely about your own home and simply stay at home… longer. Age in place confidently with your spouse!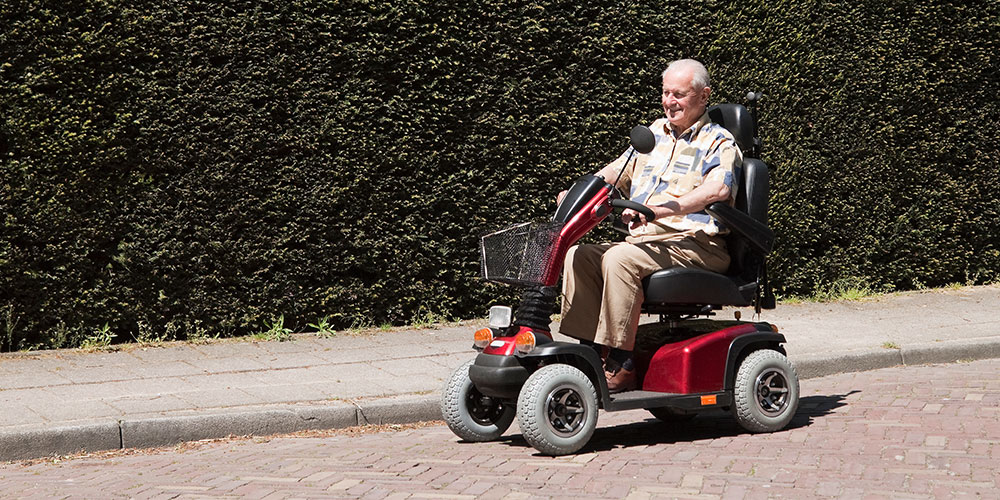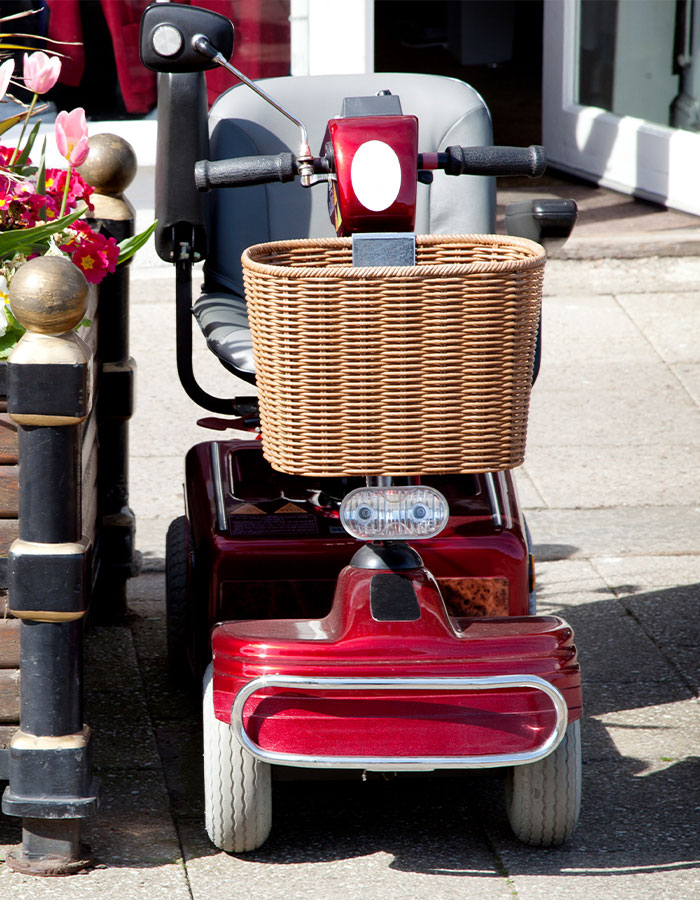 Scooter FAQs
How long do you charge a scooter battery?
Usually, a battery requires 6-8 hours. A full charge might take 12 hours. It is not advisable to leave the battery charging all the time. Overcharging can damage a battery.
Can I charge a battery with a car charger?
No. Never charge your scooter using a car charger.
How often should I charge my battery?
Never leave the house without a fully charged battery. It is a good idea to charge the battery overnight.
How far can I go on a full charge?
Scooters typically have a range of 5 miles, but it is not uncommon to go further, even up to 10 miles. Each model and battery type will determine your range.
Can I ride my scooter outdoors?
Yes. Scooters are designed to be used in light rain or even light snow. But there are electrical parts, so it is not recommended both for the safety of the user and the safety of the equipment to ride in heavy rain or deep water.
What is the maximum weight capacity of a scooter?
Each model may vary, but typically scooters will handle up to 350 lbs.
Can I take a scooter on a plane?
Yes, but it is best to call the airline in advance to ensure that it allows your type of battery.
Can I ride a scooter on the road?
No. Mobility scooters are not allowed on roads. Scooters are, however, allowed on all pedestrian walkways.