Your Guide to Mobility Ramps
Break accessibility barriers with a ramp from Weiner's Home Health Care Center. Access ramps come in many forms, sizes and materials. Whether you're looking for wood or aluminum, a portable mobility ramp, entry ramp or anything else, we can help! We carry ramps from some of the best manufacturers in the industry so you know you're receiving durable, lasting products that help you gain access to every part of your home, vehicle or elsewhere.
These products are appropriate for the home, vehicle, travel and can fulfill short or long term needs. Explore the options we carry today and get in touch with us if you need help selecting the right fit for you.
Contact Us Today Browse Mobility Ramps
Top Five Myths of Ramp Installation
1. A piece of wood is a ramp.
Mobility ramps can be made of wood, but no, a piece of wood is not a ramp. Wood is slippery when wet. After being wet, wood will swell, making the fibers brittle and prone to breaking.
2. A short and steep mobility ramp is just fine.
ADA states that a ramp must have at least one foot of run for every inch of rise. So, if the height from the top step to ground level is 12", you need 12 feet of ramp. If you use the ramp for a wheelchair or a scooter or just for the ability to avoid steps, a steep ramp is a recipe for disaster. Remember, ramps are designed to assist with fall prevention, not to contribute to the risk.
3. Mobility ramps do not need handrails.
Handrails are not just to keep you from falling off the ramp. They are also needed to help you pull yourself up the ramp. If the rise is 6" is more, you need a handrail.
4. Mobility ramps need to be permanent.
Modular ramps are not considered permanent and therefore do not require a permit in most jurisdictions. Temporary modular ramps can be great for a family member who is recovering from surgery. You can also leave the ramp in place for a family member in need.
5. I need to hire a contractor to build a mobility ramp.
You could. But you don't need to. Modular ramps can be ordered and installed in a matter of days, not weeks or months.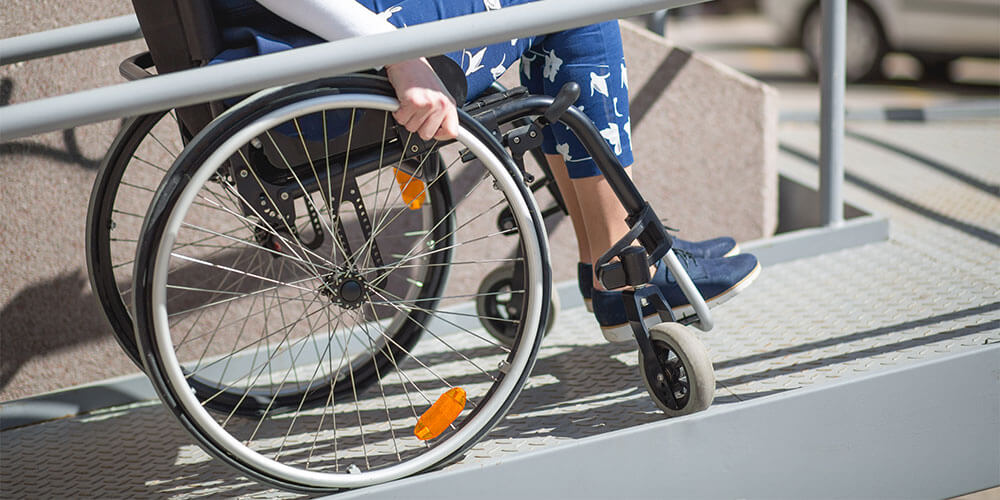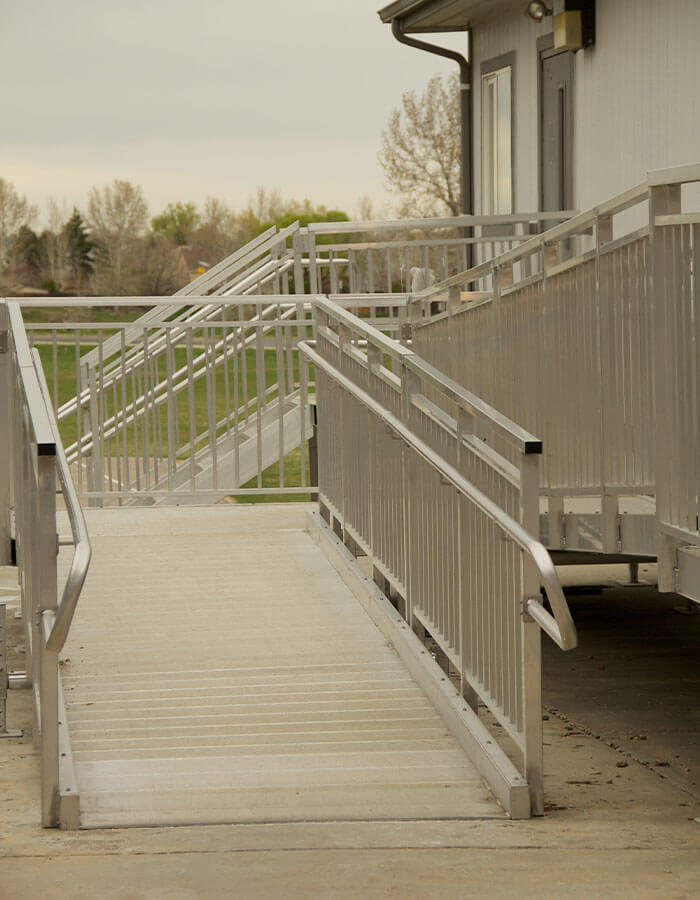 Mobility Ramp FAQs
What lengths do EZ-Access ramps come in?
Portable ramps range from 2'-10'. Modular ramps can be configured to any length needed.
What ramp length is best for me?
ADA recommends 1:12 (1 foot of ramp for every 1 inch of rise). Portable ramps should be used at a degree of incline not to exceed what is recommended by the mobility device.
What sizes do the platforms and mobility ramps come in?
Resting platforms can range from 4'x4', 4'x5', 5'x5', 5'x6', 6'x6', and 8'x5'.
What are your mobility ramps made of?
Ramps are made of aluminum which is lightweight, yet durable and will not rust or corrode.
What is the difference between the suitcase ramp and the trifold ramp?
The suitcase ramp folds in half one time and remains the overall length of the ramp when folded. The trifold ramp folds in half and then in half the long way to make the ramp half as long and half as wide when folded.
What is the difference between the "AS" and the "NON-AS" label on a mobility ramp?
The "AS" has an applied surface of high strength traction tread. The "non-AS" is the standard surface where the slip-resistant surface is extruded into the aluminum.
Does the MOD system have to go straight out or can it turn?
You can configure it to turn with a turning platform, turn back with a turn back platform, angled with a 45-degree turn platform or go straight. You can configure to meet your needs.
How do I stack the rubber threshold ramps with the risers?
The risers will go side by side up next to the threshold. A threshold ramp will go in front, angling up to the risers, and an additional rubber threshold will go on top of the risers.
Are mobility ramps Medicare compliant?
Ramps are NOT covered by Medicare.

Mobility Ramp Advantages for Your Home
Regain Your Independence
Experience newfound independence through the power of a ramp! Bid farewell to dependency on others for mobility within your home. A ramp empowers you to move independently, restoring your sense of autonomy.
Seamless Accessibility
Break down barriers and unlock your home's full potential! A home ramp acts as a gateway to effortless movement, enabling users to explore different areas and levels freely. Say goodbye to limitations and embrace unhindered access!
Safety and Convenience
Step into a realm of safety and convenience. Eliminate the hazards of stairs and uneven surfaces. With a ramp, you significantly reduce the risk of accidents, ensuring a worry-free environment prioritizing your well-being.
Social Engagement
Open the doors to social connections! A home ramp paves the way for inclusive experiences, empowering those with mobility challenges to actively engage in gatherings and daily activities. Embrace your place in the vibrant tapestry of life!
Mobility Ramp Safety Tips
Assess Ramp Conditions
Before use, visually inspect the ramp for any signs of damage or instability. Address concerns immediately to ensure it can be used safely.
Evaluate Incline and Angle
Confirm the ramp's incline and angle adhere to recommended guidelines. A proper slope allows you to use the ramp safely. Consult an accessibility professional if the ramp's configuration poses challenges.
Secure Personal Belongings
Before using the ramp, secure personal items so they don't fall. Attach bags or accessories securely to mobility aids.