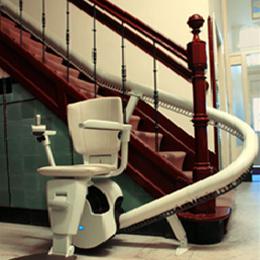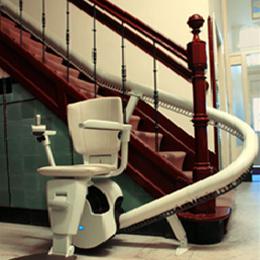 ThyssenKrupp A slim and compact stair-lift that works on even the most complex staircases and folds up out of the way when not in use to leave the staircase free for other users. View more
A Stair Lift for the Complex Staircase
The Flow II Stair Lift by Thyssen is a slim and compact stair lift that is designed with narrow staircases in mind. The Flow II is also capable of folding up out of the way to leave the staircase free when the lift is not in use. The light-touch release lever effortlessly swivels the seat away from the staircase, allowing you to get off the stair lift with easy-to-use armrest controls! To offer a solution for everyone, the armrest control is delivered with three types of joysticks. The stair lift that can be customized to blend in with the decor of almost any home smooth and easy installation that has a minimum amount of unnecessary expense the most luxurious stair lift on the market.
Flow 2 Safety Features
Seat belt ensures the user feels secure during travel.

The stairlift will stop if it comes into contact with an obstacle during travel.

Emergency brake prevents the stairlift from travelling too fast as a result of gravity.

Emergency lowering system returns the stairlift to the bottom of the stairs in the event of a battery running out.